Chapter XVI • A Dog's Life
Sweet Success • The Albert Sweet Story
Chapter XVI • A Dog's Life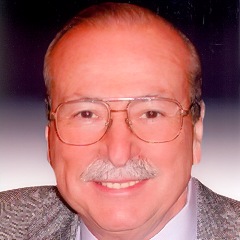 Mark Twain once stated that "Heaven goes by favor. If it went by merit, you would stay out and your dog would go in." It's often said that dogs are a man's best friend. And in Al's case, nothing could be truer.
Clyde was sick everyday of his life. But he was an incredible dog. He was a Shepherd-Collie mix, a mutt, yet very smart and very beautiful. We had a terrific relationship. My daughter Lori had gotten him from a kennel. He had been a stray. She was attending the University of California, Santa Cruz and they wouldn't rent her an apartment as long as she had a dog. So she brought him down to me. At the time, he was skin and bones. I told her I'd take him to the vet and at least get him some shots.
It turned out Clyde had colitis. He was going from both ends. The vet said, "You don't really want this dog, do you? He's going to cost you a fortune. He won't be able to do anything and he's going to die on you." But I didn't believe him. I had already fallen in love. Within a week, he was my dog. And I ended up getting 15½ years out of him.
The vet put Clyde on a strict regimen. I had to give him a special kind of dog food, plus miniscule doses of three medications: prednisone, sulfadiazine, and metronidazole. And I had to feed him every two hours. So I'd set the alarm to wake up four or five times during the night. I didn't mind getting up with him. It was a pleasure because I had fallen in love. This dog knew I was going to take care of him.
Clyde would spend the entire day with me at the office. He had radar. He would sit in the far corner of my office. If someone came in for a meeting, and they were full of baloney, Clyde would stay in the corner. But if they were a nice person, he would come over and sit by them. People would ask how I could spend so much time and money on a dog. Well, I've spent far more time and money on some people without receiving a fraction of the pleasure.
By the age of fifteen, Clyde was starting to have seizures. One day, I heard my housekeeper screaming, "Clyde just fell in the pool!" I had to quickly dive in and get him out. After that, the seizures became more frequent.
Finally, Janey and I decided to take him to the vet and have him put to sleep. As we were walking Clyde up to the front of our property for the last time, he suddenly started prancing around. There were no signs of any problems. He was a like a puppy again at age 15½. This happened three times, and each time we were crying like babies. Eventually, the seizures got so bad we had to put him to sleep.
I ended up spreading half his ashes along the path where we used to go for walks in Lake Arrowhead, and the other half I keep in an urn next to my bed.
For the next decade, Al would still visualize Clyde in his favorite areas of the house. Al debated whether or not it was a good idea to get another dog, since Clyde's passing had been so difficult to deal with. But soon, a special woman would come into Al's life that would help make the transition back into being a dog owner a little easier.
It had been about ten years since I lost Clyde when I began looking for another dog. I answered an ad in the Malibu Times and wound up speaking with a dog trainer named Jasa, an absolutely delightful woman who is a world renowned breeder. After a few conversations, she called back and said she had a lovely female dog for me that might be perfect. Her name was Charlotte and she was a former show dog.
The next day, she drove over to my house in a station wagon. A crate used for carrying dogs was in the back of the car. Jasa opened the rear door and out popped Charlotte. While I was standing there, she asked me to call the dog over. I called Charlotte and she came right up to me. Then I said, "Sit, stay, rollover," and she obeyed. I couldn't believe it.
I was going to go into the house to get my checkbook when Jasa said, "Not so fast. I want to leave Charlotte here for a few days to make sure she thinks you're as good as we think you are and vice versa." So she drove off and left Charlotte behind.
But as soon as she left, Charlotte crawled into her crate and wouldn't come out. I called Jasa back and told her what happened. It was obvious the dog was extremely loyal to Jasa and wanted to go back with her. So she came back and took Charlotte away.
Anxious to locate another dog, Al waited to hear back from Jasa, who continued to work overtime to try and find the perfect match for Al. Days went by… then weeks. Finally, the phone rang…
Quite a bit of time passed, and I finally got a call from Jasa. "I think we found the perfect dog for you," she said. "She's a female Australian Shepherd and a national champion. Her name is Puzzle." I said, "Puzzle? What kind of a name is that?"
Then I asked what was wrong with her. She told me there was nothing wrong except that she was nine years old. I asked how long these dogs usually last. She said somewhere between ten to twelve years. I told her I couldn't lose another dog. I mean, it had taken more than a decade after Clyde's passing for me to want to get another dog.
Nevertheless, I agreed to see Puzzle, and well, what a dog she turned out to be. Jasa was right, she was very special. She ended up staying. Despite her age, Puzzle never stopped acting like a puppy.
I would take her out to lunch with me at Coogies in Malibu, which has outdoor seating. It reminded me of when I was in Germany where dogs would actually sit in chairs at the tables and people would feed them food from the menu.
The Australian Shepherd is the breed that rounds up sheep. They make a circle around the animals when it's time to bring them in, closing the circle smaller and smaller. They also do it with people. Whenever we would have company here, she'd keep watch until everyone was seated. That was Puzzle – a real treasure.
Jasa would keep in touch with Al every couple of weeks to see how he and Puzzle were doing. Everything was going fine until one day in the spring of 2012 when Puzzle suddenly passed away at the age of 13½. A heartbroken Al shared the news with Jasa who soon thereafter brought Gracie (another Australian Shepherd that happened to look just like Puzzle) into Al's life.
Although Clyde will always have a special place in Al's heart – and no dog could ever replace Puzzle – Gracie is now happy to be the latest addition to the Sweet family.